Israeli bulldozers invade refugee camp Jan 10, 2002

"IT'S NOT A WAR AGAINST TERRORISM - IT'S THE OCCUPATION - STUPID !"

Happy anniversary - Half century of US "diplomacy" in Middle East

Why do Palestinians kill themselves and Israelis in such an horrific way at the bus stop or in a crowded market? Do you really care to know? Well, let me try and explain. I believe it is an act of absolute despair and a very serious stage of the seemingly perpetual conflict. Since the uprooting of the Palestinians in 1948 triggered by Irgun Jewish terror under the leadership of Yitzak Shamir and Menachem Begin, we have tried everything...

Interactive History of conflict

Galilee October 1948, Ethnically Cleansed Palestinians on their way to Lebanon

Prorok Dawid zajął Jerozolimę w 1004 r. p.n.e. i uczynił z niej stolicę swego królestwa, które istniało przez 75 lat, za panowania Dawida i jego syna Salomona. Królestwo to zajmowało tylko środkową część Palestyny i było wasalem Egiptu. Po śmierci Salomona podzieliło się na dwa państwa. Jedno z nich to królestwo Izraela ze stolicą w Nablus, którego istnieniu położył kres asyryjski król Sennacherib w 722 r. p.n.e.. Drugie to królestwo Judy ze stolicą w Jerozolimie... W 133 roku Rzymianie stłumili powstanie Żydow i wypędzili ich z Palestyny. Czy to dlatego "walczymy" już 2000 lat ? ( więcej )

..and those people who helped Jews to survive, during the second world war - what do They feel now ? Maybe not all of them, are the same ? That's what I want to think...
Anti-Israeli demonstration in Amsterdam

Palestyński Wstyd i Honor Kilka tygodni temu moja siostra, pracująca matka czworga dzieci, była poruszona, zobaczywszy na ekranie telewizora izraelskie czołgi na ulicach obozu dla uchodźców palestyńskich i żołnierzy, wdzierających się do ich domostw. Oświadczyła, że chciałaby dołączyć do męczenników. Parę godzin później świat dowiedział się, że w Jerozolimie pewna młoda Palestynka wysadziła się w powietrze, zabijając Izraelczyka i raniąc 150 przechodniów... ( więcej )

People who helped Jews to survive during the second world war - what do they feel now ? Some put their own life in danger to help them, and look what they do now ? I really hope one they - they will understand : there is no peace trough violence, no peace trough humiliation of Palestinians, no peace without forgiveness.... The "God given land" is between Nile and Euphrates - they think and no one can explain it to them that it's not exactly like that. I can't understand also the "American support" for this criminal act. With so much grief of WTC, they still don't get the message and right conclusion.... One, who thinks that he can bring justice with war planes, tanks, guns...
The Same "Play" - just different rules in acting ...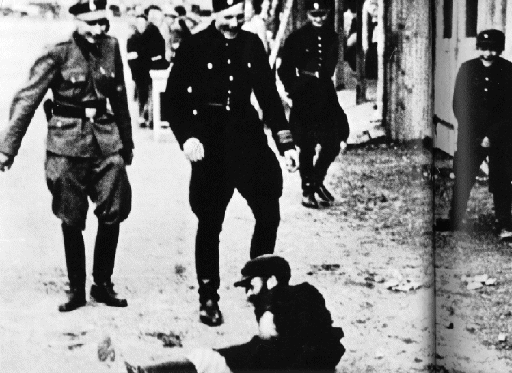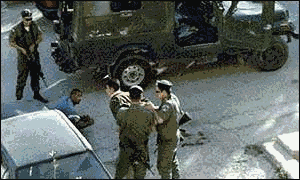 THE CAMP THAT BECAME A SLAUGHTERHOUSE
Independent.uk 9:04pm Sat Apr 13 '02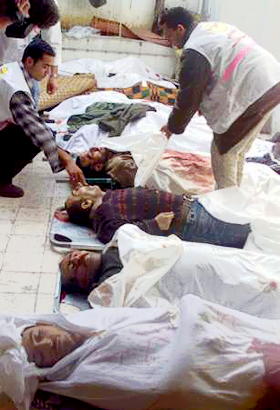 A woman with her leg all but ripped off by a helicopter rocket, the mangled remains hanging on by a thread of skin as she slowly bleeds to death. A 10-year-old boy lying dead in the street, his arm blown off and a great hole in his side. A mother shot dead when she ran into the street to scream for help for her dying son. The wounded left to die slowly, in horrible agony, because the ambulances were not allowed in to treat them.

A terrible crime has been committed by Israel in Jenin refugee camp, and the world is turning a blind eye. Colin Powell, the US Secretary of State, visited the scene of a suicide bombing that murdered six Israelis in Jerusalem, but he did not visit Jenin, where the Israelis admit they killed at least 100 Palestinians. The Israel army claims all of the dead were armed men, that it took special care to avoid civilian casualties. But we saw the helicopter rockets rain down on desperately crowded areas: civilian casualties could not have been prevented... ( more )
A one time self-styled "symbol of the struggle for human rights", Sharansky is in fact a bigot and a hypocrite who does not believe that human rights are applicable to all human beings everywhere and irrespective of their race, colour or religion. Israel's great dissembler

«Ho visto il corpo di un bambino di cinque anni maciullato, spuntare dai detriti. Israele ha diritto a difendersi. Ma questo non puň diventare un assegno in bianco per fare ciň che si vuole». ( Coriere della sera ) Bisogna cominciare a chiedersi cosa spinga un ragazzo o una ragazza a morire per uccidere. Se riusciamo a trovare una risposta a questo interrogativo forse cominceremo a capire meglio la situazione e ad individuare la strada da percorrere per arrivare alla pace e alla fine del terrorismo. La strada che sta percorrendo Sharon punta alla eliminazione fisica del popolo palestinese e questa puň essere una delle soluzioni....
Kto zrozumie, dlaczego Palestyńczycy wysadzają się w powietrze w izraelskich restauracjach i autobusach, ten pojmie istotę konfliktu. Jesteśmy narodem gniewnym i zuchwałym. Dziś każdy z nas walczy o to, by sam nie musiał zostać zamachowcem-samobójcą. Podobno przed bramami raju stoi już długa kolejka ochotników. Jestem skłonny w to uwierzyć. Zamachowców do działania popycha długa historia poniżonego narodu i pragnienie zemsty, jakie nosi w sobie każdy Arab. Od kiedy w 1948 roku utworzono państwo Izrael i wygnano Palestyńczyków z ich ojczystej ziemi, arabskie dusze pogrążone są w głębokim wstydzie. A wstyd to w kulturze arabskiej najboleśniejsze z uczuć. Kto go zaznał, uważa, że nie ma już po co żyć. Człowiek honoru nie godzi się na takie poniżenie; woli zginąć z godnością... ( wiecej )
BBC Pictures - Palestinian support demonstrations
Official declarations and many reports in the Israeli media indicate that the Israeli military and political leadership are aiming, eventually, at a total destruction of the Palestinian authority, and, with it, the process of Oslo, which is now dominantly considered by them a 'historical mistake'... ( more )

"Americans tend to see Israel's offensive in terms of the war against terrorism...

Europeans tend to see it as part of a struggle for Palestinian self-determination"

Is "American glass haw empty" this time, or this was their plan ? How stupid do they think we are ?

In January 1996, with full support from Israel and responding to the invitation of the Palestinian Liberation Organization, the Carter Center helped to monitor a democratic election in the West Bank and Gaza, which was well organized, open and fair. In that election, 88 members were elected to the Palestinian National Authority, with Yasir Arafat as president. Sharon's rejection of all peace agreements that included Israeli withdrawal from Arab lands, his invasion of Lebanon, his provocative visit to the Temple Mount, the destruction of villages and homes, the arrests of thousands of Palestinians and his open defiance of President George W. Bush's demand that he comply with international law have all been orchestrated to accomplish his ultimate goals: to establish Israeli settlements as widely as possible throughout occupied territories and to deny Palestinians a cohesive political existence - JIMMY CARTER ( more... )
''The Israeli policy will only reinforce the feelings of hatred 300 million Arabs have toward Israel."

* THE KINGDOM OF SAUDI ARABIA REITERATES ITS WARNING FROM ISRAEL'S POLICY AND SAYS THAT ISRAEL DOES NOT WANT PEACE.
* ANNAN AND THE SECURITY COUNCIL CALL UPON SHARON TO WITHDRAW IMMEDIATELY: THE SITUATION IS TRAGIC AND THE POLITICAL AND MORAL POSITIONS OF ISRAEL ARE SINKING.
* PRESIDENT PUTIN: I WARN FROM REMOVING ARAFAT AND IF THE INTERNATIONAL RESOLUTIONS ARE NOT IMPLEMENTED FORCE MIGHT BE THE ONLY WAY TO ACT.
* A BRITISH MINISTER: THE ISRAELIS ARE PLAYING A VERY DANGEROUS GAME AND THE ISRAELI ARMY'S ACTS ARE UNACCEPTABLE.
* BELGIUM STOPS ITS ARMS SALES TO ISRAEL.
* DENMARK'S FOREIGN MINISTER: THEY HAVE EXCEEDED ALL LIMITS AND THEY MAKE THE WHOLE PALESTINIAN PEOPLE PAY THE PRICE.


*
Powell Meets With Arafat
"When the Israelis complete the full withdrawal we will carry out our obligations,"
Sharon and Ben-Eliezer declare that if the Palestinians are made to suffer more and more, they will eventually surrender and agree to live in several Ghettos, as proposed by Sharon. In practice, the opposite is happening: the more the pressure on them mounts, the more their unity grows, their methods of resistance improve and their readiness to suffer and not to surrender increases - more...
Defeat and victory - tears AND MORE HATE !

At its annual session in Geneva, the commission approved with a majority vote a resolution which accused Israel of mass killings of Palestinians and demanded that it end its military offensive in the occupied territories. The motion accused Israel for "gross violations" of humanitarian law and affirmed the "legitimate right of Palestinian people to resist".

Israel's ambassador to the United Nations "highly politicised and one-sided document... which could never help to make peace in the Middle East" - more...

What are the Israelis trying to achieve? Re-occupation of territories, arrest of terrorists, or the destruction of the Palestinians? What will they consider as a successful operation? - more...

*
17 April, 2002 Powell's fruitless "mission" - Bush : we win the war on terrorizm - ???

"United States don't need to dominated space with nuclear weapons, USA if wants to kill, can kill anything , anywhere in the world right now" - USA Heritage Foundation representative (Jack) ..... TV show Apr.23,2002
I am Amos, the Israeli soldier. Terror is my game and Murder is my name.
Bush, Saudi Prince Meeting in Texas
The foreign minister ridiculed Bush's description of Sharon as "a man of peace." "Ariel Sharon a man of peace?" the prince said. "I don't think even Ariel Sharon believes that." Responding to Bush's demand that Arab countries condemn Palestinian suicide bombings, al-Faisal in an interview with the Arab daily al-Hayat said: "Nobody favors killing the innocent from here or there." But the Saudi foreign minister added: "How could anybody condemn a person who lost hope in life because of humiliations and circumstances imposed on him by an occupier? There is a difference between a terrorist attack like what took place on Sept. 11, and a suicide operation by a male or female youth (for) who all means of decent life have been blocked." ( more... )
" When the propaganda work has converted a whole people to believe in a doctrine, the organization can turn the results of this into practical effect through the work of a mere handful of men " - A.H.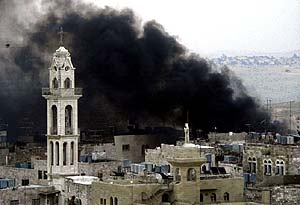 At 3.00 am of today 8th April 2002, the Israeli army opened fire on the buildings of the Nativity in Bethlehem. In an adjacent building to the Basilica a fire broke out, most probably caused by the explosion of a grenade. A Palestinian who tried to put off the fire was killed by the israeli soldiers...

BETHLEHEM (May 2, 2002) - Ten members of the International Solidarity Movement (ISM) entered the besieged Church of Nativity at about 5:45 pm, walking past Israeli occupation soldiers. A further thirteen persons, working as decoys were arrested by the Israeli soldiers. All those inside are determined to remain until the Israelis lift their siege on the city of Bethlehem. ( more... )
" What the Israeli action combined with the SUICIDE bombings have done is to foster more hatred than anything over the last 30 years of occupation "

Peace, Propaganda and the Promised Land